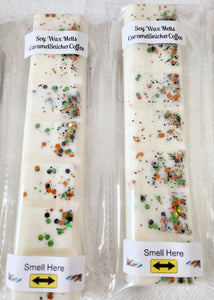 Caramel Snicker Coffee Snap Bar Wax Melts
Snap bar wax melts are the new craze and work well as wax melts! We have added these beauties to our collection of wax melts to add variety and fun! Snap your bar and add as many snaps that will fit into your wax melt warmer. (1 to 3 are recommended as long as your warmer is large enough)
Caramel Snicker Coffee snap bar wax melts smell just like Caramel coffee! If you love flavored coffee then this is the cent for you!
Size: 3 oz
Made with soy wax and fragrance. 
Choose either a single bar or buy 5 for $14.00 deal.
Colors may vary a little bit. 
Made with soy wax, high quality fragrance oils and color/glitter.  Each one varies in color due to the handmade nature of this product. These are not edible and are only to be used in an appropriate wax melt warmer.  Keep out of reach from children & pets.